During the past 15 years, I have grown exponentially personally as well as professionally. So it is safe to say that CodeGen is like my second home, where I have been blessed to meet my mentors and leaders for life.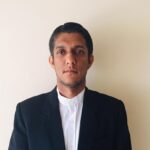 I joined CodeGen for an internship as Trainee Software Engineer, and from there onwards, it has been a journey with outstanding achievements. After completing my degree at the University of Moratuwa, at CodeGen, I have met great leaders as opposed to bosses. Each and every one of them helps us shape our career and skill-set to pioneer world-class solutions. And, I hope to have the same impact on the juniors who will join our team.
When I see a code that I wrote going into production, this is one of the happiest feelings ever! It gives me great pleasure to work with clients from all over the globe. With my skills and expertise, I have been able to optimise our flagship product, TravelBox™. As a result, we now power top global brands and help them run millions of bookings through the software we have designed at CodeGen. Over the years, we have conducted a series of product augmentation processes to upgrade the technology whilst moving into cloud-based and microservices.
I will continue to extend my support towards CodeGen to make it a billion-dollar company and wish to be a change-maker to uplift our nation's economy.