I was a fresh graduate from the University of Jayawardenepura with just theoretical knowledge with no industry experience.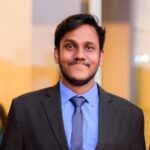 However, after joining CodeGen, in just two years, I can say with a lot of confidence that I have been given amazing opportunities and experiences to excel in my career.
I work as a Quality Assurance Engineer for one of the pioneering projects at CodeGen. I design, plan, execute and test multiple varied scenarios and use many tools and technologies to analyse and test system performance. I am privileged enough to have travelled around the world to engage and meet clients. And the impact I get to create by working closely with one of the most extensive theme park operations in the world makes my journey at CodeGen even more extraordinary.
Being part of CodeGen means much more than learning new tech. It is about who you meet and the ones who help you grow both personally and professionally; an extended family!
Winston Churchill once said, "Success is not final; failure is not fatal: It is the courage to continue that counts." and that really keeps me going to do better each day at CodeGen.