I remember joining CodeGen six years ago as a fresh graduate from SLIIT. I had zero experience in the industry at that time and was really looking forward to what CodeGen had to offer. When I look back, CodeGen has helped me hone my skills and molded me into what I am today.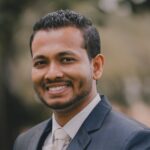 I work as a Lead Systems Engineer and my work allows me to learn and grow on the go with a fantastic team. The ability to gain hands-on experience in the global technology market and the exposure we get to work with the latest technologies have immensely helped me improve my knowledge over the years at CodeGen. The opportunity I receive to showcase my leadership skills and guide teams and juniors with my interpersonal and communication skills makes me happy and content.
I hope to further expand my knowledge in cloud technologies such as AWS, Azure and Oracle and work on process enhancements by using development tools like Jenkins, Docker, and Kubernetes to automate and manage day-to-day activities.