For the first time in Sri Lanka, the American Chamber of Commerce together with the Sri Lanka Association of Software and Service Companies organized an ICT conference and exhibition held at the Kingsbury Hotel, Colombo, Sri Lanka that showcased the best in class software products for the travel, tourism and hospitality industry.
With a target audience of CEO's, Marketing Managers, Investors, Business owners and other senior decision makers in the travel, tourism and hospitality industries, more than twenty IT companies attended to exhibit their software solutions. Google Industry Specialist, Mr Simon March, and expert in providing winner digital strategies and latest trends in Travel, Tourism, Gaming and Entertainment industries, delivered the key-note address on 'Emerging markets' to a captivated and appreciative audience.
In advance of the event, a competition was organized with entries in three categories invited –
Marketing Sri Lanka as a destination,
Enhance revenue & customer experience,
Optimize costs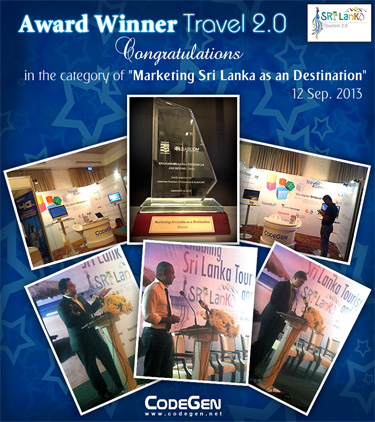 The competition attracted over forty entries for all categories, which were designed to promote software solutions for the travel and tourism industry in general and specifically for Sri Lanka. An expert panel of judges, evaluated the entries and presentations for their effectiveness, ease of development and adaptation in the local context and for their proven capabilities.
CodeGen International were announced winners of the 'Marketing Sri Lanka as a destination' Award, having presented their 'Zoom Sri Lanka' (www.zoomsrilanka.com) – which is powered by CodeGen's flagship product 'TravelBox'.
Zoom offers clients a full range of information and product choice for the island as a trip advisor of what to see and do. A multitude of accommodation options can be selected by many categories that include the traditional choices of price, location, facilities and grade as well as by proximity to activities, adventures, culture, nature, beaches, entertainment and sports. In addition to the full booking process, Zoom users are able to manage bookings – all in a single application.
TravelBox is a fully comprehensive Enterprise system built in a true web-services on open standards and developed specifically for the Global Travel & Tourism industry and is supporting many aspects of this industry on an international arena.